As I mentioned in my earlier post, we had decided to spend the Memorial Day Weekend in St. Augustine to avoid the increased boat traffic.  That turned out to be a great decision.  The powerboat traffic, at least in the area of St. Augustine was relentless from sunrise to sunset.  We were able to sit back, relax, dinghy into town for sightseeing and great food, with no added stress from navigating the flotilla of powerboats.
While we were in the mooring field, we met another CSY owner…Dave, a singlehander, on Windswept…(a CSY walthru model).  Talk about the small world theory…Dave was friends with another member of the CSY Owner's group, Peter, with whom he had recently visited.  Dave wasn't a member of the owner's group but had heard about a project to get a re-creation of the bronze CSY "badges" manufactured. These badges originally adorned the forward companionway hatches on all CSY's but over the decades were removed as souvenirs by owners who were selling their boats or lost during refits.
I asked Dave if he had been able to get one of these and he said that Peter had sent him some information about them but he hadn't had time to follow up.  Dave wasn't aware that I was the member who had the badges made for the owner's group. I happened to have a couple of spare badges so I gave one to Dave.  He was very surprised and appreciative.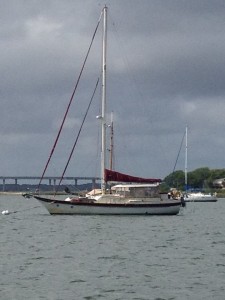 We departed St. Augustine at around 7am on Tuesday, May 26th and made a timely pass through the Bridge of Lions.  This was a good thing because the bridge doesn't open for rush hour and we would have had to wait until 8:30am to depart.
We had a long (About 9 hours) but uneventful day trip to Fernandina Beach where we docked at the Fernandina Harbor Marina, topped off our diesel tanks and settled in for the night.  We had a great meal at the Salty Pelican Bar and Grill and then walked the downtown area. We had to stop in at the Palace Saloon (Florida's Oldest Bar).
The Fernandina/Amelia Island area has a great small small town feel with a lot of original restaurants and also has an amazing hardware store for obtaining parts and small supplies to keep things in good repair.  The bonus is that all of these are within walking distance of the marina.