Since the purchase of our boat we have upgraded, replaced, rebuilt or refurbished most of the onboard systems in one way or another.  During these upgrades we have noticed a few things that our marine survey did not uncover.  As a result of this, I'd like to take the time to recommend that any potential Liveaboard boat buyer bite the bullet and have some separate inspections performed by a qualified expert in the individual field to save you a lot of headaches down the road.
Now, I realize that there are a great many highly qualified marine surveyors out there and that all of them intend to be the best at what they do.  The cold truth is very few of them can be experts in every single aspect of every system that make up a cruising, Liveaboard sailboat, unless they are Master Certified Tech's in each field.  Even then, you might find that they are more versed in some than others.  If you are going to spend what might be the bulk, or a very large portion of your life savings on your dream boat, it pays in the long run to find every bruise, wart or under rated system that lurks on board, especially when you are negotiating the final purchase price.  It can also save you a lot of hassle when you insure your boat.
Our surveyor, for instance, missed a localized termite infestation, some very bad DC wiring in the binnacle, missed a couple overburdened DC grounding system points, severely underestimated the age of our rigging Sta-Loks and missed some very under rated AC four position switches (one of which later partially melted and could have caused a fire). The resistance in that circuit, which is the primary source for our battery charging, may have lead to the premature demise of our last set of ten Trojan T-105 house batteries….about $1500 to replace…..ouch….since it took some time and looking to find that switch it may have had some negative impact on our new batteries but only time will tell.  It also caused issues with our refrigeration and freezer compressors.  Those units don't like low or unsteady voltage and ours are equipped with diagnostic LED lights that flash a code every four seconds when there is an issue detected by the control module.  Low voltage can display as the same code for a locked up compressor rotor (which is about a $1000 just for parts) so beware when someone tells you your compressor is shot….it probably isn't.  There is a simple test for the compressor, cut the power and by placing an Ohm meter on the three connections for the control module (which must be removed first to access these but it's only one screw) if you don't get an "infinity" reading between any two of the three pin connections, meaning the coils are intact, your compressor is fine.  The readings should all be between 1.5 and 3.0….. (Thank you John Nihiser for the tutorial on compressor coils !!!!)
Here are a few shots of that melted switch……
Note the exposed wire at the terminal connection….also bad
This same switch was partially melted from the heat build up….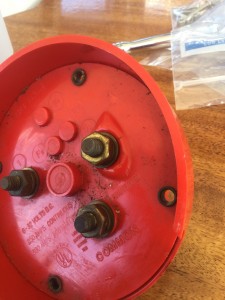 My recommendation is this….once you have a general survey (about $400) of the boat you are interested in, which will hopefully point you in the direction of the most serious issues, find some experts in these specific fields, preferably ABYC Master Certified Technicians.
Electrical Inspection….(AC and DC)….this can take as long as two hours and will run about $160
Rigging Inspection…..this will take about an hour or an hour and a half and cost about $100-$150while I've never seen an ABYC certification for this listed on their website….a few inquiries will find a locally recognized quality rigger.
Engine Inspection……you can find a manufacturer certified technician for almost every brand of diesel in most regions… Most charge travel time unless you are close to their offices so this will run about $400-$500
Heat/AC/Refrigeration……If you have one or all of these systems it would pay to have these inspected separately as they can run into the thousands to replace…..an inspection will run about $300 for all three….
At every stage of these inspections you will obviously have the opportunity to walk away from the purchase negotiations or negotiate further based on what is found.  You might save yourself a ton of headaches and expense in the long run or get a better deal on your boat and free up the money for the upgrades or repairs.