While we were in Tavernier we were fortunate enough  to make some great new friends.  Among these were Jeff and Patti.  They are hilarious and generous to a fault.  They not only let us, but insisted, we use their fishing boat multiple times  while we were there to take our visitors on tours of the local area.  Thanks  guys !!!
We also had a fun weekend excursion with Jeff and Patti.  We drove down to the Sunset Grill at the west end of Marathon for lunch and a dip in their salt water pool.  They had the best hogfish sandwich I've had so far!!
When we were headed back we saw some goings on at the docks near Postcard Inn so we stopped in.  A bunch of our other new friends were there for the results of the "Lionfish Derby".  Here's a quick explanation of that…..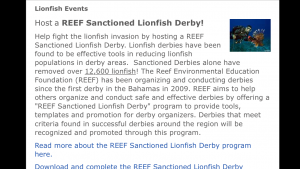 It seems Lionfish are very invasive and they can be harvested at any time in any number.
After the derby they bring in volunteers to prepare the Lionfish and teach the attendees how to do so safely.  They also made an awesome Lionfish ceviche and flash fried Lionfish….I may have had seconds …..(and tenths)