Well, we have made it to the Keys 🎉🎉🎉🎉🎉 !!!!!!
We spent a few days motoring south on the ICW in order to reach Lake Worth where we planned to leave Florida and re-enter at Biscayne Bay just South of Miami.  We enjoyed a visit from my youngest sister and even convinced her to pilot the boat for a short period …….sadly, it was the first time we can recall not seeing any Dolphins or Manatees…..it was weird. My sister was understandably disappointed, but that just means she has to come back sooner. Hurry back Sis!!!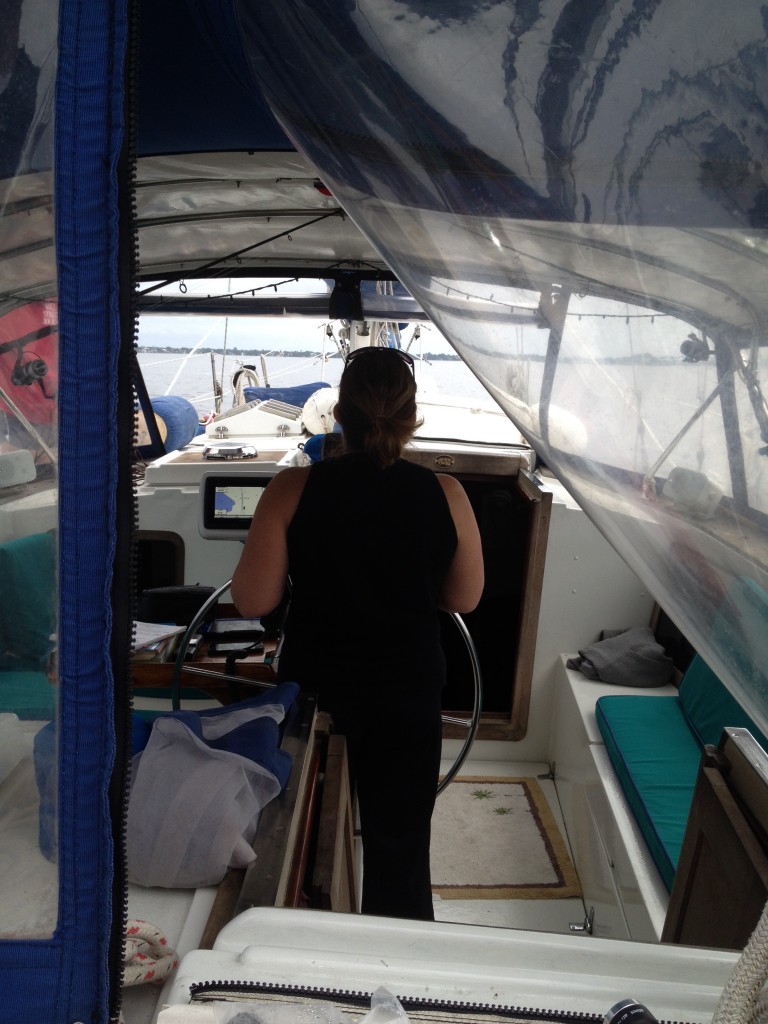 We we spent an unexpected three days in Ft. Pierce due to the New Year holiday (who knew some marinas closed all day on New Years Day?) and discovering that the wind was going to be pretty heavy plus we had developed a stalling issue with our diesel.  We discovered the issue while trying to pick up a mooring ball in Vero Beach…..it is a VERY SMALL area with two and three boats on some mooring balls…….a pretty exciting few minutes there…..my apologies to the residents of that mooring field….we couldn't slow down and when I did, we stalled so I had to come in at about 4 knots and then once we went to neutral we stalled and coasted up to the ball.
We did get to meet a VERY nice and professional TowBoatUS Captain named Al, the next day in Ft. Pierce, which was our first ever tow….if you don't have BOATUS Towing insurance I highly recommend buying the best package you can afford….we use the unlimited Gold and its only $180 per year and worth every cent….this tow alone would have been $370.
A great by product of this mechanical misadventure was that we discovered what we have decided must be manufactured from voluntarily donated unicorn blood, or some other mystical creature.  Our diesel started fine….ran fine for hours…..then when we tried to shift for neutral we would stall……after some research and consulting with the folks at Trans Atlantic Diesel (a big Thank you to our diesel guru Marcus Neville) we acquired the magic juice…..

It's called "Stanadyne Performance Formula" and your diesel can actually run on just it, but it's about $80 a gallon, so if you have that kinda coin, can you float me a little?? Long story short, we drained our fuel filters and filled them with this additive, ran the engine at varying RPM's for an hour ….and …..VOILÁ !!!! SHE RAN LIKE NEW !!!!! We couldn't even cause a stall…..
We left Ft. Pierce on January 2, 2016 after ringing in the New Year at Cobb's ….a great restaurant and tiki bar in Ft. Pierce.  If you ever get near there I highly recommend that stop.  We made a quick one night stop in Stuart where the winds howled again that night.  We had the chance to catch up with some friends from our old sailing club, Rick and Cathy.
We arrived arrived in Lake Worth the next day and spent five days in a Marina since the winds kicked up yet again and were blowing 30 knots.  Once that settled down we proceeded on our trek where we anchored just South of Peanut Island (where the JFK Cuban Missile Crisis bomb shelter was built) and we spent five days there again riding out 20+ knot winds…. And rain….and heavy chop…..did I mention that I think the wind is following us ? Lake Worth stretches between North Palm Beach, West Palm Beach and Palm Beach…..
Peanut Island is a man made island constructed from then dredged material created from the digging of the Palm Beach Inlet and Basin and is also the home to JFK's Cuban Missile Crisis Nuke Shelter.  It seems his family owned a home nearby and the Secret Service chose this spot in the event of a nuclear attack to protect the President.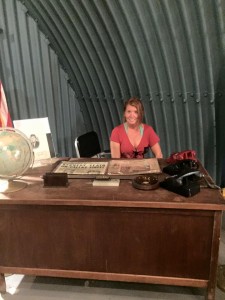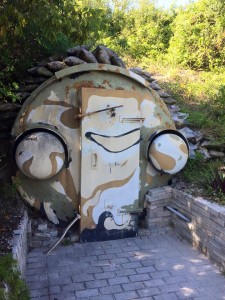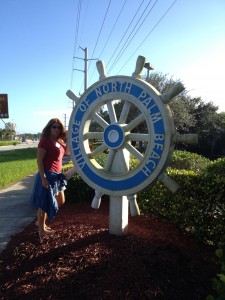 We we noticed after four days of the bucking bronco that our anchor snubber …(snubber: a device made of dock line and a saddle or slotted plate that rides on the anchor chain that is used to absorb the shock of the boat pitching and pulling on its anchor)
….had worn through the starboard side thimble ….(a thimble is  curved section of metal fitted into a loop of spliced line to protect the line from strain and chafe)….so we had to get that replaced at Florida Line and Rigging….another great cruiser friendly place in Palm Beach and Erin really hooked us up, had the new line done in an hour and did a great job on our new snubber line.
See the really rusty loop at the end of that line ?? Rust bad….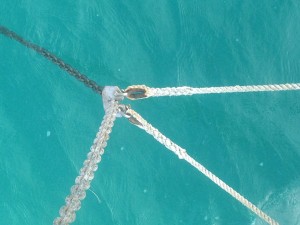 The winds and tides at Lake Worth so often ran against each other that our boat and anchor line looked like they were practicing yoga or twister…..I made a rough diagram of how it looked on one day……the yellow line is our anchor chain…the red part is the chain and anchor that was buried in the sand……its no wonder people often think their anchors are set when their boat doesn't drift away but many times it's just the tide and wind working against each other plus the weight of the chain and anchor holding you in place….that's why we always back down (i.e. Reverse and pull) against our anchor to be sure we are set.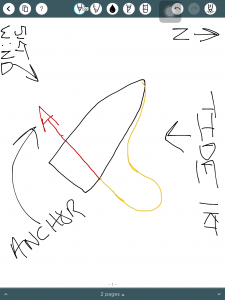 We left Lake Worth and cruised down the coast with 15 to 20 knot winds behind us and following seas…..sadly, not as comfortable a ride as the old saying would lead you to believe.  After we came into Biscayne Bay and crossed over into Key Largo, we stopped over at Gilbert's resort for a night and met a nice couple who worked there, they are also interested in living on their own sailboat….it was great to meet you Lorenzo and Kate…..
Well, that's it for now……