After our 50+ hour offshore trip we arrived early enough in Carolina Beach to relax for the latter part of the day.  We rinsed down Kitty Hawk to remove any harmful salt crystals from her sheets, halyards, canvas and other running gear and managed to get cleaned up afterward in time for some dinner at the Sea Witch Cafe and Tiki Bar.
Kitty Hawk had performed very, very well during our offshore time and being in the congested area around the ICW in Carolina Beach made me wish we were still offshore.  That's the nice thing about a sailboat like Kitty Hawk, when the ICW gets too crowded with jet skis and small fishing boats, we just go where they can't go.
The next morning we pushed off bright and early before the currents coming through "Snow's Cut" began to hold us on the dock.  On our last trip through this area we made the mistake of going out for a leisurely breakfast and returned to about a 6kt current pinning us on the dock.  It was an exciting couple of minutes getting away from that.  This was one of those times that the lessons from the previously posted video from the Annapolis School of Seamanship came in handy.
On a side note….It's a funny thing about people on the water, they (mostly amateur fishermen) apparently don't realize that their voices carry over water.  Especially when they yell over the noise of their idling engines.  Around 5:30am two guys, in two different boats pulled up next to each other right in front of the marina where we were docked and proceeded to have a loud twenty minute conversation about their lives.  Keep in mind, they were both headed in the same direction and could have gone another 200 yards up river and no one could have heard their life stories, complete with recent medical histories.
We managed to time every bridge between the Seabreeze/Carolina Beach area and Swansboro, NC perfectly.  Of all the upgrades we have made to Kitty Hawk the Garmin 741xs chartplotter has been the most used.  Among other features, it accurately estimates arrival times at any point you designate on a chart and updates it in real time based on changes in speed and course.  Making a bridge opening now is a piece of cake!!
Just North of the notoriously slow opening Onslow Beach Bridge (which is operated by the Marine Corps) we encountered an area, in which, we have always encountered shoaling …
There are some unconfirmed reports that there is a large, submerged tank near 61a….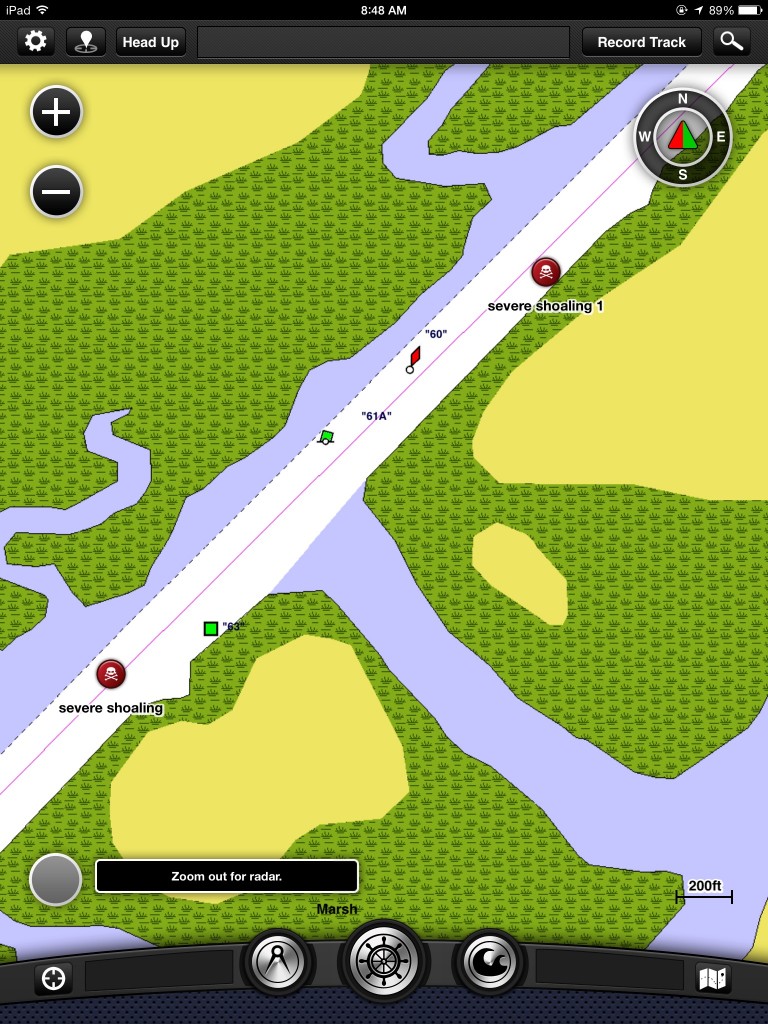 As as we approached this area, I recalled seeing a Pacific Seacraft Crealock 37 run aground here last year….that time we were heading South and solely due to my stubbornness we had avoided the worst of the shoaling.  When I saw the Crealock lurching back and forth West of the green mark looking for a path through and eventually coming to a stop on the East side of the channel, I knew this might be a trying moment…..the markers are moved very far to the West side of the channel here, the current that comes in the small inlet to the East and the 1′-2′ depths just West of the marks, you get a bad feeling…..In 2014, after seeing the Crealock come to a halt, I announced to my crew member Mike "I'm not going west of that green….hold on" and I throttled up….I aimed right at the green mark's East edge…we barely rubbed the bottom and slipped past……We hailed the Crealock and offered assistance but they declined and said they'd wait for the tide.  We saw them pass Carolina Beach later in the day so they were only held up for a few hours there.
This time, coming North, Mike was at the wheel…..the current was absolutely ripping in from the small inlet as we watched a small powerboat headed South zig zag between the marks in the shallow area.  Mike took the Green on our starboard side but the strong current forced us West and we began to ground.  We had a great moment of teamwork as I dealt with the throttle and Mike steered.  Once we realized this was not going to work I gave us as much reverse throttle as I could and Mike deftly reversed us in a graceful figure eight curve away from the shoaling and spun us around for another approach. This time we aimed straight for the green almost touching it with our starboard side, throttled up to avoid the crab-walk sideways movement to the West and we slipped through.
We made it all the way to Swansboro where we docked at Casper's Marine.  The owners there have been in the marine business for their entire lives as it is a multi generation family operation.  It was very entertaining just to watch the owner handle the power boats in preparation for loading them into the "rack-o-minimums" ….this guy could swing a boat around in its own length like he was driving a golf cart…I'd never seen what I always called a "Rockford Files" turn in a car, done in a boat before but this guy made it look like flipping a switch.
We managed to get cleaned up in pretty short order and we had an amazing dinner at the Icehouse Waterfront Restaurant.
Day #13 was our final day of this trip.  I have to say that we have been very fortunate to have a vessel as mechanically reliable as Kitty Hawk.  We cruised up the rest of the ICW without a hitch, refueling at the Morehead City Marina and sliding into Oriental with just a minor grounding incident in the channel that leads to our marina.  That entire channel has shoaling issues on the green side and it's pretty easily avoided …..unless you've been away for a year and forget about it!!!
Our summer season was filled with finishing our land based obligations and selling the last of our stuff….plus the great streak of "goodbye" parties, happy hours and dinners as we deal with the emotional roller coaster of saying goodbye to friends and family for a while…..plus Kitty Hawk needs some TLC and a few more upgrades……